Offline Advanced Brain Bee Camp
$650.00
Description
This program consists of 10 weeks of intensive OFFLINE training to prepare students for the Brain Bee competition exams.
OUR STUDENT ACHIEVEMENTS
2018: 
3 studentsin USABO Top 20
2nd place in Indianapolis Brain Bee
2019:
4 students in USABO Top 20
1 student in Canadian National Biology Olympiad
1 student in International Biology olympiad
1st place in St. Louis Area Brain Bee
2020:
2 students in USABO Top 20
3rd place in North California State Brain Bee 2020
1st place in International Medicine Olympiad
2021:
3 students in USABO Top 20
2022:
3 students in USABO Top 20
1 student in International Brain Bee
The Brain Bee is a neuroscience competition designed for high school students. Its aims are to inspire young learners to pursue a career in neurosciences and research and learn more about the brain. The Brain Bee is an international competition that takes place annually in many countries around the world. You can read more about different chapters at www.thebrainbee.org. The USA Brain Bee website is https://www.dental.umaryland.edu/brainbee/.
The goal of the Brain Bee Training Program is to prepare highly motivated students to compete in the Brain Bee competition. The students will follow an intensive curriculum prepared by experienced Brain Bee coaches. Note that this course is advanced, and before signing up for this camp, you should already know the entire content of the Brain Facts booklet.
This course is also suitable for undergraduate students who are interested in learning more about the brain and neuroscience in general.
Duration: 10 weeks (20 lessons)
Schedule: offline
Course cost: $650
You will receive the access to resources of the training course which include:
* Handouts for each module
* Lecture presentations
* Weekly quizzes
* Lecture recordings from previous camps
Note that when you join the course, you will get access to all class materials and thus the course is NON-REFUNDABLE.
Over the course of 10 weeks, students will cover all chapters from the following two textbooks:
– "The Brain: An Introduction to Functional Neuroanatomy" by Watson, Paxinos & Kirkcaldie (2010), ISBN: 978-0-12-373889-9
– "Essential Neuroscience" 3rd Edition by Siegal and Sapru (2015), ISBN: 978-1-4511-8968-1.The last week of the training camp will be allocated to intensive neuroanatomy, neurohistology and patient diagnosis training. The course also includes 1 final Mock Brain Bee exam.All course participants will be able to access weekly quizzes, handouts and lecture presentations on Schoology.
If you have any questions, contact us at camps@biolympiads.com
The Advanced Brain Bee course syllabus: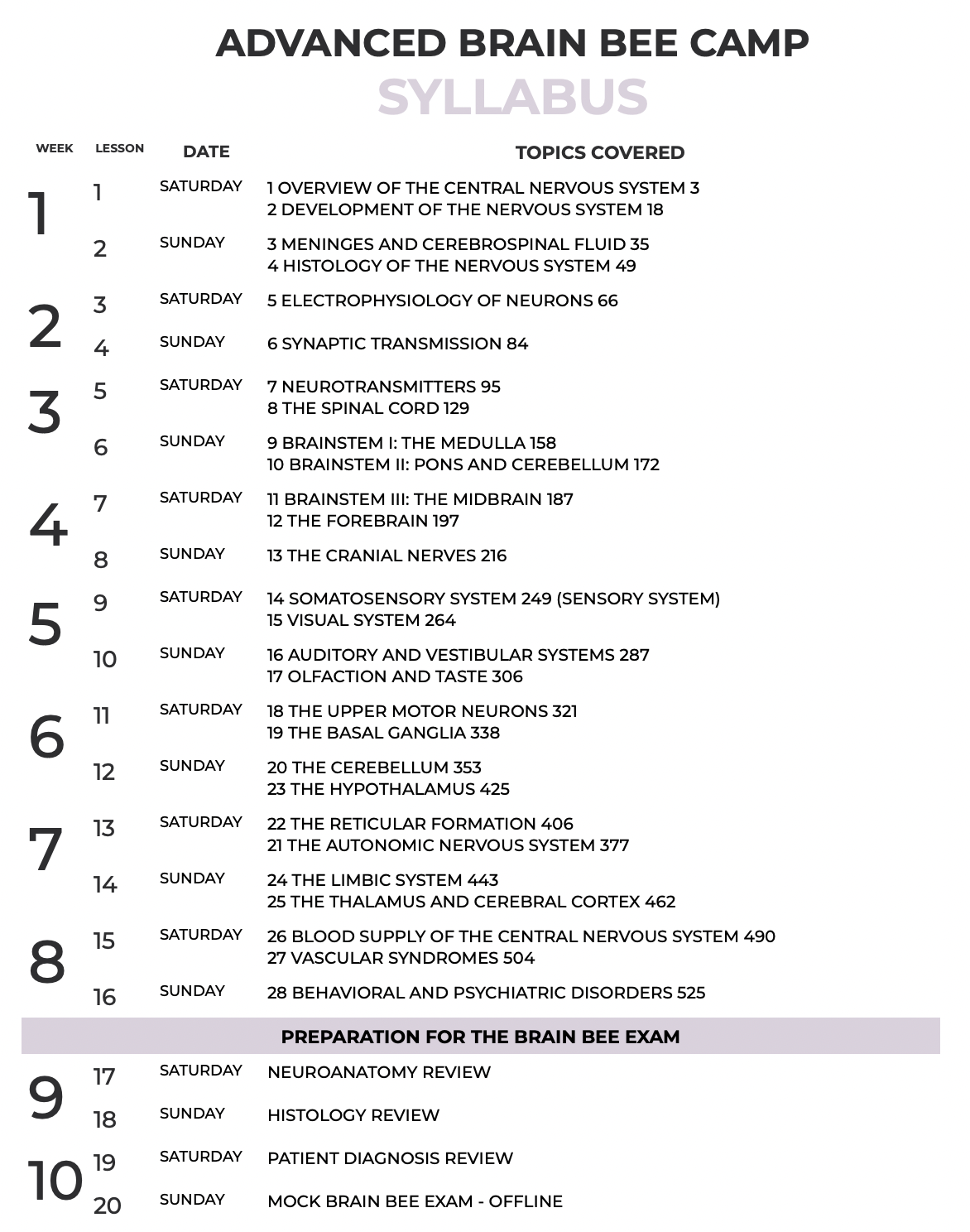 The camp starts on a rolling basis and you can register at any point.
Biolympiads.com has no affiliation or association with any Brain Bee competitions.