Advanced Brain Bee course
€1,100.00
Description
This program consists of 10 weeks of intensive training to prepare students for the Brain Bee competition exams.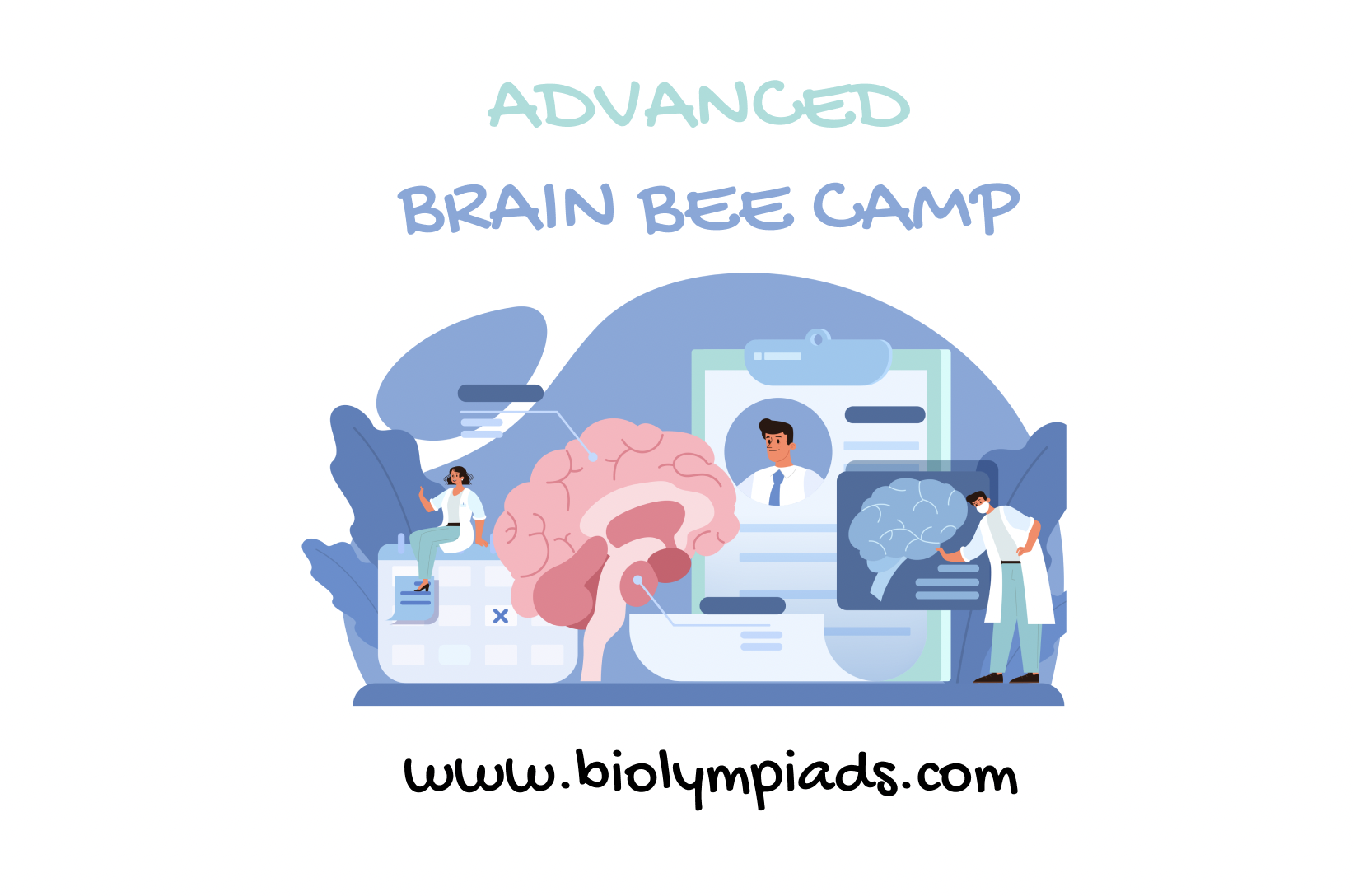 OUR STUDENT ACHIEVEMENTS
2018: 
3 students in USABO Top 20
2nd place in Indianapolis Brain Bee
2019:
4 students in USABO Top 20
1 student in Canadian National Biology Olympiad
1 student in International Biology olympiad
1st place in St. Louis Area Brain Bee
2020:
2 students in USABO Top 20
3rd place in North California State Brain Bee 2020
1st place in International Medicine Olympiad
2021:
3 students in USABO Top 20
2022:
3 students in USABO Top 20
1 student in International Brain Bee
The Brain Bee was founded in 1999 and is the world-wide neuroscience competition for high school students. The competition motivates students to learn about the brain, captures their imaginations, and inspires them to pursue neuroscience careers to help treat and find cures for neurological and psychological disorders.
Currently, more than 60 nations and 175 chapters are engaged in coordinating Brain Bee programs around the world, and this number is rapidly increasing. About 50,000 students participate across all six continents every year, and more than 600 neuroscientists have been involved with organizing and judging the events.
The Brain Bee competition is organized on 3 levels: local, national, and international. The first-place prize winners are granted the opportunity to compete at the national level. The National Champions are, in turn, invited to represent their country at the annual international competition, which is hosted by different neuroscience organizations during an international conference.
The goal of the Brain Bee Training Program is to prepare highly motivated students to compete in the Brain Bee competition in 2023. The students will follow an intensive curriculum prepared by experienced Brain Bee coaches. Note that this course is advanced and before signing up for this camp you should already know the entire content of the Brain Facts booklet.
Duration: 10 weeks (20 lessons)
Schedule: 90 mins on Saturdays and 90 mins on Sundays
Course cost: $110
Class time
: usually in the window between 12:00PM EST and 15:00 PM EST
Course start date
: on a rolling basisOver the course of 10 weeks, students will cover all chapters from the following two textbooks:
– "
The Brain: An Introduction to Functional Neuroanatomy
" by Watson, Paxinos & Kirkcaldie (2010), ISBN: 978-0-12-373889-9- "
Essential Neuroscience
" 3rd Edition by Siegal and Sapru (2015), ISBN: 978-1-4511-8968-1.
The last week of the training camp will be allocated to intensive neuroanatomy, neurohistology and patient diagnosis training. The course also includes 1 final Mock Brain Bee exam.
All course participants will be able to access weekly quizzes, handouts and lecture presentations on Schoology.
If you have any questions, contact us at camps@biolympiads.com
The Advanced Brain Bee course syllabus: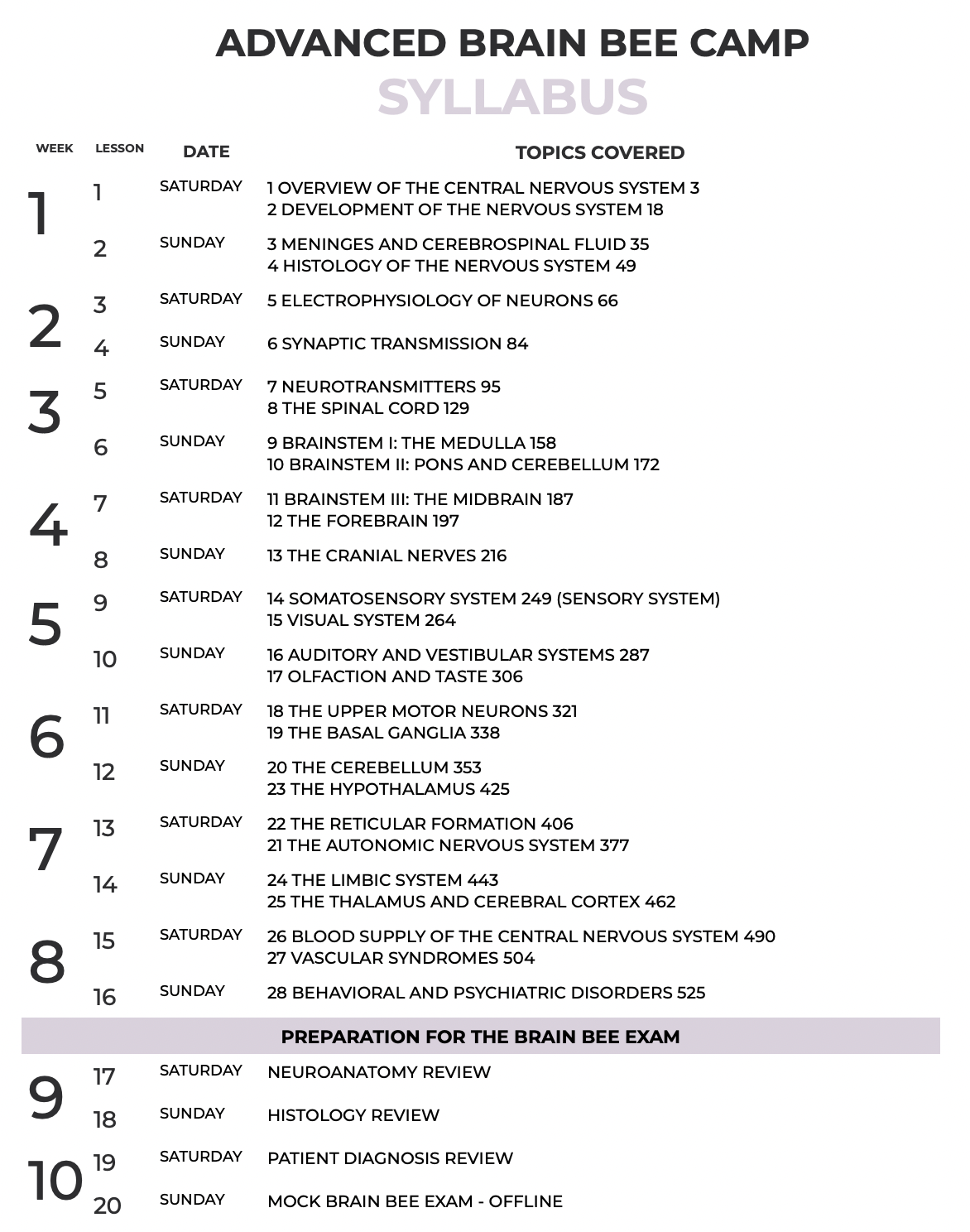 The camp starts on a rolling basis and you can register at any point.
Biolympiads.com has no affiliation or association with any Brain Bee competitions.