🌟 Join the Next Generation of Biology Innovators! 🌟
Unearth the mysteries of life, unlock your full potential, and become a biology superstar. The world is waiting for your discoveries – let's make them happen together! 🌍🔬💡
🔬🌿 Unleash Your Inner Scientist with Biolympiads.com! 🌟
Are you a high school student with a burning passion for biology? Do you dream of conducting groundbreaking research and wowing the world with your scientific discoveries? Are you interested in taking part in the science fair? If you're nodding enthusiastically, then you're in for an exhilarating journey with Biolympiads.com!
🧪 Ignite Your Curiosity: Explore the World of Biology
Embark on a thrilling adventure where the realms of biology are your playground! Whether you're fascinated by the intricate workings of cells, the wonders of ecosystems, or the secrets of DNA, our science fair coaching services are tailored just for you.
🔍 Why Choose Biolympiads.com?
🌟 Expert Guidance: Our team of experienced biologists, established scientists, and educators are here to mentor you every step of the way. They'll help you fine-tune your ideas, design experiments, and analyze results, ensuring your project stands out.
🚀 Science Fair Success: Want to win that prestigious science fair? We've got you covered! Our coaching will equip you with presentation skills, research techniques, and a polished project that judges won't be able to resist.
🌍 Global Community: Join a thriving community of young scientists from around the world. Collaborate, share ideas, and be inspired by your peers, all while expanding your network in the field of biology. At the end of our coaching program, we will host an online poster session where you will have to present your findings to your peers, allowing you to practice your presentation skills! The best winning posters will receive Amazon Gift cards!
📈 Achieve Your Academic Goals: Whether you're aiming for top-tier colleges or seeking scholarships, excelling in science fairs and research projects is a surefire way to impress admissions officers and secure your future.
🎓 Transform Your Passion into Success
Don't let your love for biology remain a hidden talent. With Biolympiads, you'll gain the knowledge, skills, and confidence to turn your passion into a powerful force for change. Your journey toward scientific excellence begins here!
What we offer
Our coaches will help with:
Project Guidance:

We will provide one-on-one and group coaching to students on their science fair and research projects.
We will brainstorm and help students come up with ideas for a science project.
We will assist students in selecting suitable research topics and formulating research questions.
We will offer guidance on experimental design, data collection, and analysis.

Research Skills Development:

We will teach and reinforce scientific research methodologies, including literature review, hypothesis development, and data interpretation.
We will encourage critical thinking and problem-solving skills among students.

Resource Management:

We will assist in procuring necessary equipment, materials, and resources for students' projects.

Presentation Coaching:

We will help students prepare clear and engaging presentations for science fairs, conferences, and competitions.
We will provide feedback on presentation content, organization, and delivery.

Mentoring and Motivation:

We will offer support and motivation to students throughout the research process.
We will foster a positive and collaborative learning environment.

Documentation and Record Keeping:

We will ensure that all research and project-related documents are properly maintained and organized.
We will assist students in creating research journals or lab notebooks.

Safety Compliance:

We will ensure that all research activities adhere to safety protocols and ethical guidelines.
We will promote a culture of safety and responsibility among students.
TUITION FEES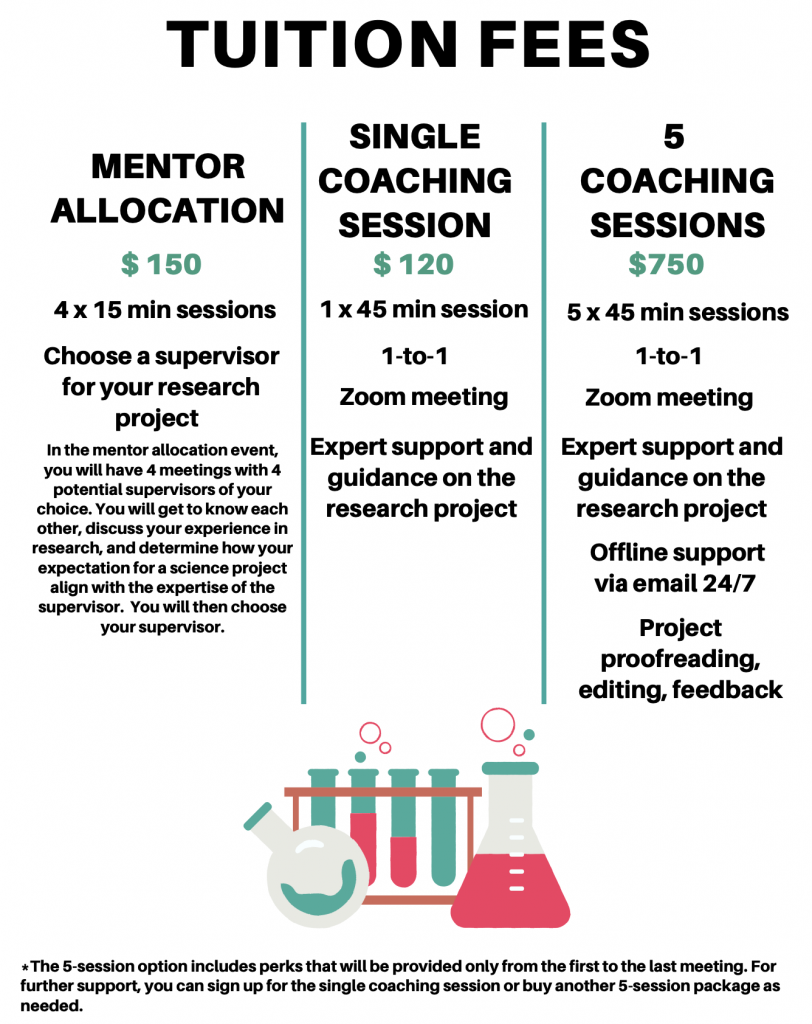 REGISTRATION
To register for the Science Fair Coaching program, please follow the link https://forms.gle/rvNg5UYu3heQomha6.
SCIENCE FAIR COACHING BROCHURE
Science Fair Coaching – Bio… by Martyna Petrulyte
CONTACTS
🌐 Email us at training@biolympiads.com to learn more!