Biolympiads is recruiting!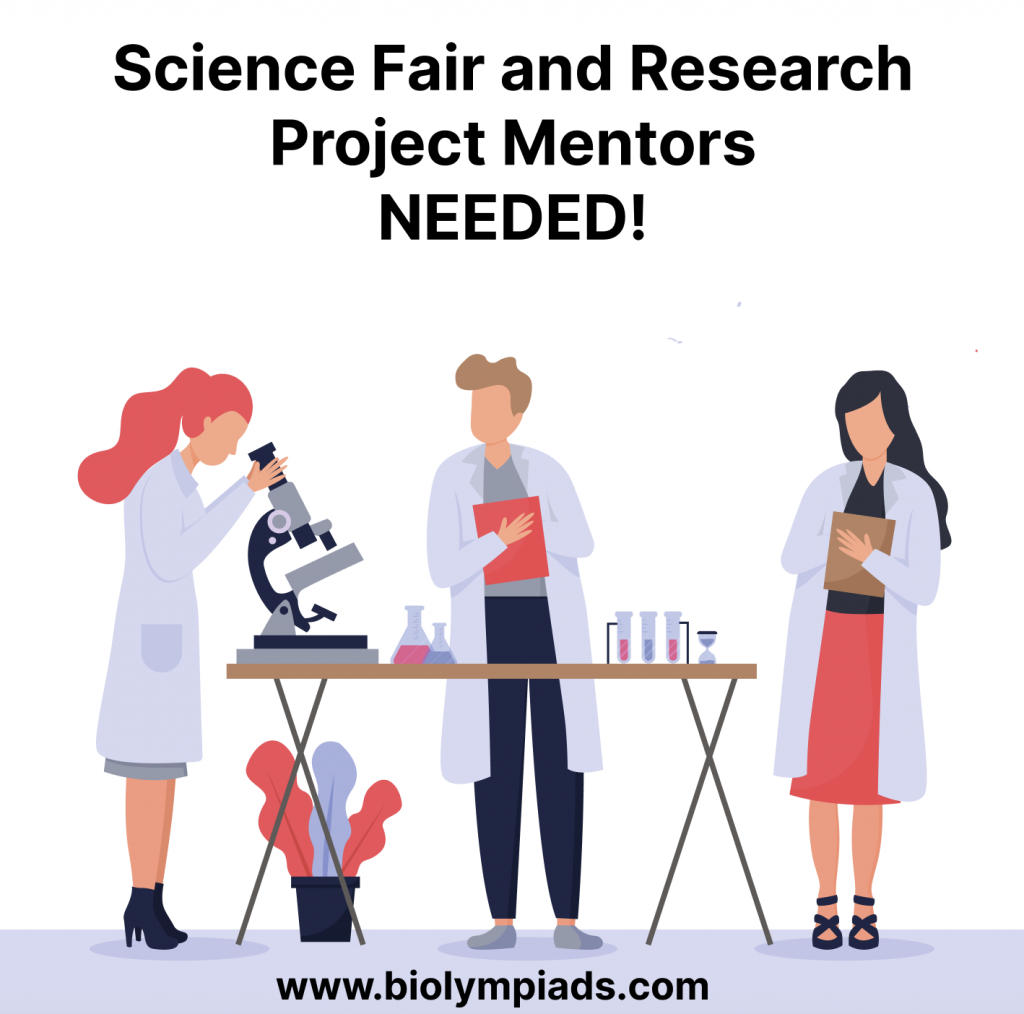 Job Title: Science Fair and Research Project Coach/Mentor
Job Description:
We are seeking a dedicated and enthusiastic Science Fair and Research Project Coach/Supervisor to join our team at Biolympiad. In this role, you will be responsible for guiding and supporting high school students in their science fair and research projects, helping them develop ideas for projects, fostering their critical research and presentation skills, and a passion for scientific inquiry. The ideal candidate should have a strong background in a biology-related discipline, extensive reesearch experience, excellent communication skills, and a passion for nurturing young scientific minds.
Responsibilities:
Project Guidance:

Provide one-on-one and group coaching to students on their science fair and research projects.
Brainstorm and help students come up with ideas for a science project.
Assist students in selecting suitable research topics and formulating research questions.
Offer guidance on experimental design, data collection, and analysis.

Research Skills Development:

Teach and reinforce scientific research methodologies, including literature review, hypothesis development, and data interpretation.
Encourage critical thinking and problem-solving skills among students.

Resource Management:

Assist in procuring necessary equipment, materials, and resources for students' projects.

Presentation Coaching:

Help students prepare clear and engaging presentations for science fairs, conferences, and competitions.
Provide feedback on presentation content, organization, and delivery.

Mentoring and Motivation:

Offer support and motivation to students throughout the research process.
Foster a positive and collaborative learning environment.

Documentation and Record Keeping:

Ensure that all research and project-related documents are properly maintained and organized.
Assist students in creating research journals or lab notebooks.

Safety Compliance:

Ensure that all research activities adhere to safety protocols and ethical guidelines.
Promote a culture of safety and responsibility among students.
Qualifications:
A Bachelor's degree in a relevant scientific field (Master's or Ph.D. are highly preferred).
Previous experience in scientific research or science education at a high school level is highly desirable.
Strong knowledge of research methodologies, data analysis, and scientific principles.
Excellent communication and interpersonal skills.
Patience and the ability to work effectively with students of varying ages and skill levels.
Organizational skills and attention to detail.
Enthusiasm for science and a passion for inspiring the next generation of scientists.
Proficiency in using scientific equipment and software (as applicable).
Working Conditions:
This is a part-time role.
You can work from anywhere.
Work includes only weekends if working from Europe or weekday evenings if working from the US to accommodate students' schedules (almost all students are from the US).
Competitive pay rate dependent on experience.
Application Process:
Interested candidates are encouraged to submit their resumes, cover letters, and references. Please include your rate for a 45-minute mentoring session. Shortlisted candidates will be invited for interviews. Please forward all relevant documents to camps@biolympiads.com.