As the premiere biology competition for high school students in the United States, the USA Biology Olympiad (USABO) enriches the life science education of nearly 10,000 talented students annually. It provides the motivation, curricular resources, and skills training to take them beyond their classroom experience to the level of international competitiveness.
After two rounds of challenging exams, twenty Finalists are invited to a residential training program where they learn advanced biological concepts and exacting lab skills at the USABO National Finals. Ultimately, four students earn the right as Team USA to represent the USA at the International Biology Olympiad (IBO), a worldwide competition involving student teams from over seventy countries.
More information about how to register go to https://www.usabo-trc.org/.
Don't forget to join a study group https://groups.google.com/a/biolympiads.com/d/forum/usabo-study-group
USABO: About the Exams
Round 1: USABO Open Exam
---
Is a 50-minute, nationwide multiple-choice exam available to any high school biology student (grades 9 to 12) who is registered by a school or authorized Center.
Administered at a registered school (classroom or location designated by the teacher/test administrator) within the time period designated by the Center for Excellence in Education (CEE).
Structured in part like the multiple true/fase choice portion of the International Biology Olympiad (IBO) Theoretical Exam.
Has NO Penalty for guessing.
Round 2: USABO Semifinal Exam
---
Is a 120-minute exam containing three parts:

Part A is primarily multiple choice questions with one answer.
Part B has more complex, sequenced multiple choice and multiple true/false choice questions that may have several correct answers and may require calculations or extensive interpretation of graphs (see posted example).
Part C may be short answer or essay.

Administered at a registered school or authorized Center (classroom or location designated by the teacher/test administrator) over a 120-minute period within the time period designated by the Center for Excellence in Education (CEE).
Taken by students who score in the top 10% of the Open Exam.
Has NO Penalty for guessing. For multiple choice questions with more than one answer, the question value will be the number of wrong responses subtracted from the number of right responses with no question value below zero.
Round 3: USABO National Finals
Conducted at a host university over a 12-day period with 10 days of instruction and two days of testing.
Attended by students with the top 20 scores on the Semifinal Exam.
CEE recognizes that the National Finals' dates may conflict with high school graduation. CEE does not discourage students from attending their graduation. Special arrangements may be made by the student for a 24-hour (maximum) return to home. The student is asked to be cognizant of the fact that experience has shown missing one full day of training may be extremely detrimental to the student's scores on the National Finals Exam and Practicals.
Team USA will stay an additional two to three days for more training and preparation with personal instruction for the IBO Competition.
Instruction focuses on the laboratory and conceptual understanding for all 20 Finalists.
Activities led by university professors and experts with experience in research and undergraduate and graduate teaching assisted by former USABO Finalists.
Evenings will be free for study with tutorials from the Teaching Assistants (all former USABO medalists or Finalists) and other activities.
Practical is approximately 6 hours in duration and the Theoretical Exam is approximately three hours.

Practical: laboratory-based skills, techniques, data interpretation, and real-time laboratory competency exam involving conceptual understanding and problem solving.
Theoretical: multiple true/false choice questions and multiple choice involving interpretation of diagrams and graphs, integration of information, and data analysis.
Practical and Theoretical Exams MUST be taken on the scheduled day. No exceptions can be made.

Room and board are provided.
Students are responsible for transportation to and from the USABO National Finals. Students with financial need should contact CEE should assistance be required.
Each Finalist and his/her guardian is asked to sign an agreement to indicate support for the Finalist's advancement in the USABO competition to include full participation in Finals and the IBO competition. In addition, each Finalist and guardian signs an agreement that prohibits participation in any other national academic Olympiad or summer program, such as the Research Science Institute. In the spirit of the Olympiad, a student and his/her parent/guardian are expected to honor the commitment when they sign this agreement.
At Finals, each student signs an agreement to obey the USABO rules. If a student breaks any one of the rules made in the USABO agreement, the student will not receive a certificate of participation or a medal. Finalists will be re-ranked accordingly.
Identification and Security
Test Administrators must have all of their students register for a Student Resource Center (SRC) account 

BEFORE

 the Open Exam.

Prior to the USABO Open Exam, Test Administrators will receive detailed proctoring instructions by email.

Before administering the Open Exam, Test Administrators should log into the TRC and print a roster of their students. The roster will have a unique ID number for each student who has registered for a Student Resource Center (SRC) account.

Only students who register for a SRC account before the exam will be able to see his/her scores using his/her unique ID.

Test Administrators will be able to see scores for all of their students based on their unique ID number.
Documentation for Open and Semifinal Exam Security
USABO requires that all students sign and date their exam to certify their identity, acknowledge their participation in the USABO, and pledge that they have followed the rules of the competition. Exams without this information will not be considered.

A Test Administrator will document that s/he administered the exam according to the rules of the competition and will verify the identity of those students taking the exam. Exams without this documentation will not be considered.

Each student must be a citizen or legal permanent resident of the U.S. and be able to provide proof of US passport.
National Finalists Must Affirm
No participation in any other 2017 International Olympiad or student research program.
Adherence to all the rules and regulations governing the USABO and International Biology Olympaid (IBO).
Proof of U.S. citizenship or legal permanent residency (green card).
Proof of U.S. Passport.
Attendance for the entire time of the National Finals.
Attendance at the IBO if they are a USABO National Finals' gold medalist.
International Biology Olympiad
Rules and regulations are found here. The USABO is in full conformity with international regulations.
If a National Finalist who is a gold medal winner fails to follow the rules affirmed above, s/he will forfeit her/his gold medal. In the event that a National Finalist wins a gold medal and is unable to attend the IBO due to circumstances beyond her/his control, the gold medal will be retained. The highest scoring National Finals silver medalist will then become a member of Team USA and attend the IBO.
Open Exam Structure and Grading Policy
Is a 50-minute, nationwide multiple-choice exam available to any high school biology student (grades 9 to 12) who is registered by a school or one of the select authorized USABO Centers.
Administered at a registered school or authorized USABO Center (classroom or location designated by the teacher/test administrator) within the time period designated by the Center for Excellence in Education (CEE).
Structured in part like the multiple true/fase choice portion of the International Biology Olympiad (IBO) Theoretical Exam.
Has NO Penalty for guessing.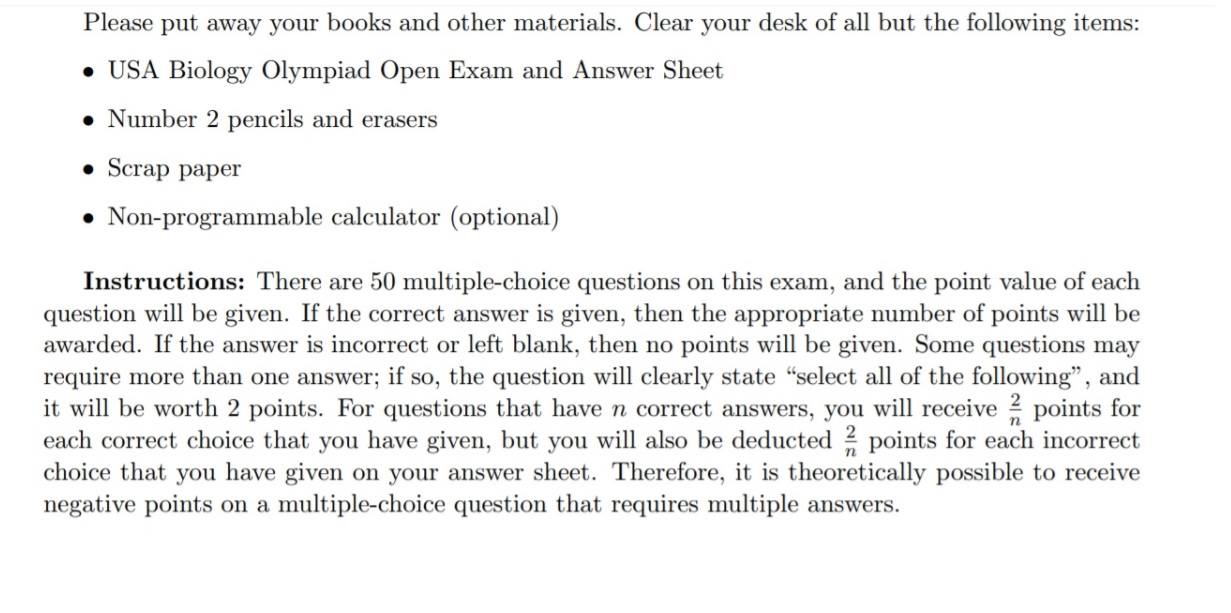 Semifinal Exam Structure and Grading Policy
Two-Hour Semifinal Exam
The USABO Semifinal Exam tests student understanding of biological concepts and critical thinking skills through multiple-choice, multiple answer, completion, matching, and short essay questions. The students have 120 minutes to complete the exam. The students determine their own pace for each of the three sections. Correct answers receive points. Incorrect answers or blank answers receive zero points.
Part A: Multiple-Choice Questions
Questions are constructed to be completed in approximately 35 to 40 minutes. Each question is worth 1 (one) point. Questions cover all seven focus areas of the USA Biology Olympiad. In reference to Bloom's Taxonomy, this section will consist of questions approximately equally distributed among the three areas of lower cognition (~60 – 70% of total) and questions testing higher levels of cognition, primarily analysis with some synthesis and evaluation (~40 – 30% of the total).
Part B: Multiple-Choice Questions
Questions are constructed to be completed in approximately 55 to 60 minutes. Each question has a two point value. Questions cover all seven focus areas of the USA Biology Olympiad. This section will focus primarily on Bloom's higher level of cognition (~70 – 80%) with some questions testing lower cognition (~30 – 20%).
Part C: Short-Answer Questions
Questions are constructed to be completed in approximately 20 to 25 minutes. Questions are worth variable points in Part C. Partial credit may be given for questions in Part C. For example, a student is asked to complete a chart with 10 cells with each cell worth 0.5 points. The student can only complete 8 of the 10 cells. The student will receive 4 points for the five point question.
The USA Biology Olympiad (USABO) Open, Semifinal, and National Exams are based on the format of the International Biology Olympiad (IBO) Theoretical Exam. To review the IBO guidelines, please visit the official IBO website at 
www.ibo-info.org
 . The Student Resource Center (SRC) is an area where you may obtain additional information on the USABO, resources, and links to content that can help you study for the exam.
Theoretical Exam Categories
Each of the seven topics is covered in the four exams: Open, Semifinal, Nationals, and IBO:
Animal anatomy and physiology: 25%
Cell Biology: 20%
Genetics and Evolution: 20%
Plant anatomy and physiology: 15%
Ecology: 10%
Ethology: 5%
Biosystematics: 5%
USABO Official Textbook
Biology (8th edition or higher)
Authors: Neil A. Campbell, Jane B. Reece, Lisa A. Urry; Michael L. Cain; Steven A. Wasserman; Peter V. Minorsky; Robert B. Jackson
Publisher: Pearson Benjamin Cummings
Copyright Year: 2008
Publishing Date: 2007/11/27
eText ISBN-10: 0-321-55085-4
eText ISBN-13: 978-0-321-55085-9
Print ISBN-10: 0-8053-6844-2
Print ISBN-13: 978-8053-6844-4
Course: Introductory Biology
Pages: 1393
Rice University: AP Biology X series FREE
Instructors: USABO Teacher Kara Burrous and Reid Whitaker
 AP® Biology – Part 1: The Cell
MIT ONline STEM Concept VIdeos
The STEM Concept Videos, produced by the Teaching and Learning Laboratory, are designed to help students learn pivotal concepts in science, technology, engineering, and/or mathematics (STEM).  Each video is part of a series that represents a cross-cutting theme in the courses that typically appear in first- and second-year engineering curricula (i.e., physics, mathematics, chemistry, biology). The STEM Concept Videos were originally produced for and funded by the Singapore University of Technology and Design (SUTD).  SUTD refers to these videos as Concept Vignettes.
These videos are also available for viewing and download on the MIT OpenCourseWare site
BioEd 
is an online educational resource for life science educators. It provides access to lesson plans, activities, lab techniques, science standards and current educational issues.
EdX offers interactive online classes and MOOCs from the world's best universities.
A project to develop a page of information on each species on Earth.
  provides access to scientific databases and software tools (i.e., resources) in different areas of life sciences such as proteomics, genomics, phylogeny, systems biology, population genetics, transcriptomics. On this portal you find resources from many different SIB groups as well as external institutions.
Images of nonvascular plants, invertebrates, protests, fungi, bacteria, and seed plants.
Website offers online references, top science news stories, grant opportunities for individuals and institutions, virtual labs and museums, teaching resources, lecture series and biointeractive teaching tools.
 iBiology's mission is to convey, in the form of open-access free videos, the excitement of modern biology and the process by which scientific discoveries are made.
Jablonski Diagram Molecular Expressions: Interactive Java tutorials.
MacMillan Learning: 106 tutorials on topics in biology.
zeroBiology: Biology quizzes, games, worksheets, dissections, and songs for students.
Flashcard Database: Site has sets of biology-related flashcards to study, capacity to develop your own, and information to download the app from iTunes.
Past International Biology Olympiad Exams.
 Interactive animations from Wiley Publishers Interactive Concepts for Biochemistry.
Botany: An Introduction to Plant Biology, Fourth Edition by James D. Mauseth. Online biology text with numerous resources, study techniques, and extensive set of review questions
Biology: Provides comparisons in five areas of biology anatomy, botany, cellular biology, microbiology, and molecular biology.
Biology Extensive resources on content, animations, and interactive activities in the life sciences to include dissections, animals, the rainforest, and links to zoos and museums. Please note some links are not live. The site was last edited in 2009.
Mathematics Interactive tutorials, quizzes, lectures, and other resources on mathematics at high school level. Includes graphing, scatter plots, and more
 Online dichotomous keys for insects.
The Genetic Science Learning Center at The University of Utah  translates science and health for non-experts. In addition to genetics, we address all areas of life science and health as well as other scientific fields.
Mastering Biology (Pearson): Requires registration. Used to study AP Biology.
Makes the materials used in the teaching of MIT's subjects available on the Web.
 Knowledge source with ability to ask questions, receive responses and participate in a blog.
 Featured research from universities, journals, and other organizations.
 Source of science, technology information and policy.
 Short, powerful talks to spread ideas in many disiplines to include biology.
As Many Exceptions as Rules: Blog about biological exceptions.
BioMan: Games, virtual labs and activities.
Bird and Moon Science and Nature Cartoons: Nature comics by Rosemary Moscoe, a field naturalist by training who is interested in connecting people with environmental science through field experiences and creative communication projects.
Bug Guide: This site is also found in the insect section of IBO curiculum links. It is An online community of naturalists who enjoy learning about and sharing their observations of insects, spiders, and other related creatures. BugGuide.net provides identification, images and information for insects, spiders and their kin found in the U.S. and Canada.
BrainPop: This site has animated movies, learning games, interactive quizzes, primary source activities, concept mapping, and more.
EteRNA: Design RNA molecules.
Florida Institute for Neurologic Rehabilition, Inc 3D Brain Model:  Explore our interactive 3-dimensional brain atlas to discover where structures are located within the brain, their purpose, and explore brain injury models. All structures and models are accompanied by easy-to-understand detailed explanations. Available for a nominal fee as an app for your communication devices.
Foldit: Solve puzzles for science.
HHMI Biointeractive: A variety of engaging animations, lecture clips, virtual labs, and other classroom resources teach key concepts related to DNA's structure and function.
The League of Nerds: Site to ask your questions about science.
Mnemonic Devices for Biology: Memory tools to remember concepts and information about biology.
National Geographic: National Geographic site includes geography, archaeology and natural science, and the promotion of environmental and historical conservation.Photographs, news, videos, and other resources.
Popular Science: News about gadgets, technology, and science.
Protein Spotlight: founded in the year 2000 to write about a specific protein – or family of proteins – on an informal tone. Despite the description of hard facts – such as a protein's function or its use in biotechnology – each article was to be a pleasant and relatively undemanding read for the Scientific Community.
r/biology: r/biology is a discussion board to discuss all things biology. The site is monitored. Be sure to follow the rules listed on the right with other important information about the site.
Society for Science & the Public: Source of information on the INTEL and ISEF Competitions in addtion to Science News magazine, blog, and other information. the Soceity for Science is dedicated to public engagement in scientific research and education.
UC Davis ChemWiki: The Chemistry Libre Texts library is a principal hub of the Libre Texts project, which is a multi-institutional collaborative venture to develop the next generation of open-access texts to improve postsecondary education at all levels of higher learning.
UCLA Life Sciences: Science news updates, research at UCLA, Scientist and Faculty Features, and more resources of interest.
Wiley's Interactive oncepts in Biochemistry: Instructional resources to supplement and extend complex biochemistry concepts.
MORE THAN 5 000 BIOLOGY OLYMPIAD-TYPE QUESTIONS
HUNDREDS OF TRANSLATED BIOLOGY OLYMPIAD PAPERS
TOPIC-SPECIFIC QUESTIONS CATEGORIZED INTO MAIN BIOLOGY TOPICS
A CHRONOMETER TO IMPROVE YOUR TIME MANAGEMENT SKILLS AND TO LEARN TO WORK UNDER PRESSURE
RESULTS SUMMARY TO TRACK YOUR PROGRESS AND SET GOALS
A FREE TRIAL QUESTION SYSTEM
USABO OPEN AND SEMIFINAL EXAM STATS