Congratulations to everyone who qualified for the USABO Semifinals 2018!
Congratulations to all of those who did not qualify, too – you did a great job and gained a lot of experience for the following years! Keep up the good work and you will qualify next year. 😉
Many students are wondering what the best way to prepare for the USABO semifinals is. To those who are trying to prepare for semis, keep in mind an important date: April 9 to 13, 2018. This means you've got only two weeks and your preparation should be very focussed. I built a study schedule and I am sharing key links to crucial study resources for USABO.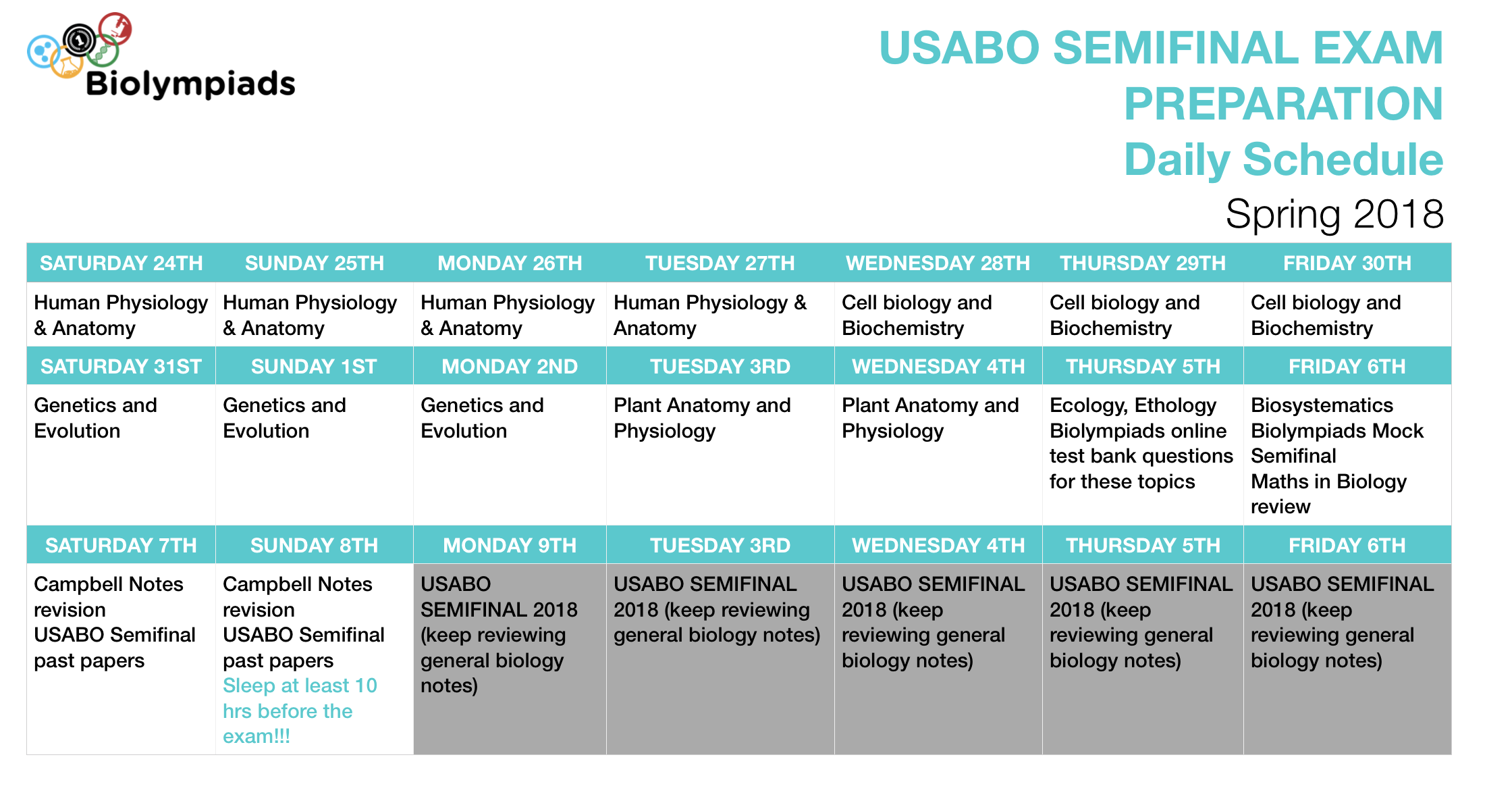 Animal Anatomy and Physiology: 25%
Cell Biology: 20%
5-07SC Biochemistry from MIT Opencourseware
Review Module I, Module II and Module III
Review 'Exam' and 'Study Material' sections
Review these topics
Lecture
Online Link
Essential Cell Biology (3rd edn pages, new page numbering for 4th edn)
1
Cell Biology Introduction
Chapter 1 Introduction to Cells pp1-38
2
Cells Eukaryotes and Prokaryotes
Chapter 1 Introduction to Cells pp1-38
3
Cell Membranes and Compartments
Chapter 11 Membrane Structure pp363-386, Chapter 12 Membrane Transport 387-424, Chapter 15 Intracellular Compartments and Transport 495-530
4
Cell Nucleus
Chapter 5 DNA and Chromosomes pp171-196
5
Cell Export – Exocytosis
Chapter 15 pp514-518
6
Cell Import – Endocytosis
Chapter 15 pp522-529
7
Cell Mitochondria
Chapter 14 Energy Generation in Mitochondria and Chloroplast pp453-492
8
Cell Junctions
Chapter 20 Cellular Communities:Tissues, Stem Cells, and Cancer – Epithelial Sheets and Cell Junctions pp700-705
9
Cytoskeleton Introduction
Chapter 17 Cytoskeleton pp571-608
10
Cytoskeleton 1 Intermediate Filaments
Chapter 17 Cytoskeleton – Intermediate Filaments pp571-576
11
Cytoskeleton 2 Microtubules
Chapter 17 Cytoskeleton – Microtubules pp577-589
12
Cytoskeleton 3 Microfilaments
Chapter 17 Cytoskeleton – Microfilaments pp590-598
13
Extracellular Matrix 1
Chapter 20 Cellular Communities:Tissues, Stem Cells, and Cancer – Extracellular Matrix and Connective Tissues pp690-699
14
Extracellular Matrix 2
Chapter 20 Cellular Communities:Tissues, Stem Cells, and Cancer – Extracellular Matrix and Connective Tissues pp690-699
15
Cell Cycle
Chapter 18 The Cell Division Cycle – Overview of the Cell Cycle pp609-624
16
Cell Division
Chapter 18 The Cell Division Cycle – Mitosis pp625-634, Cytokinesis pp634-638
17
Cell Death 1
Chapter 18 The Cell Division Cycle – Control of Cell Number pp638-647
18
Cell Death 2
Chapter 18 The Cell Division Cycle – Control of Cell Number pp638-647
19
Signal 1
Chapter 16 Cell Communication pp531-570
20
Signal 2
Chapter 16 Cell Communication pp531-570
Genetics and Evolution: 20%
Review 'Lecture notes', 'Assignments' (review only solutions as you won't have time to do problems), and 'Exams' section
Plant Anatomy and Physiology: 15%
Ecology: 10%
Ethology: 5%
Biosystematics: 5%
Further resources:
Biolympiads question bank – To practice biology olympiad-type questions
Biolympiads Semifinal mock exam – To score your knowledge before the real semis
For Top 20 camp and for Semis
Only if you have time review problem solutions: