Since the inaugural program in 2017, BioResearch Academy's mission has been to enlighten young, motivated biological scientists on thinking creatively about research problems. It aims to inspire the next generation of researchers through transformative instruction and social learning within an intimate community of like-minded peers.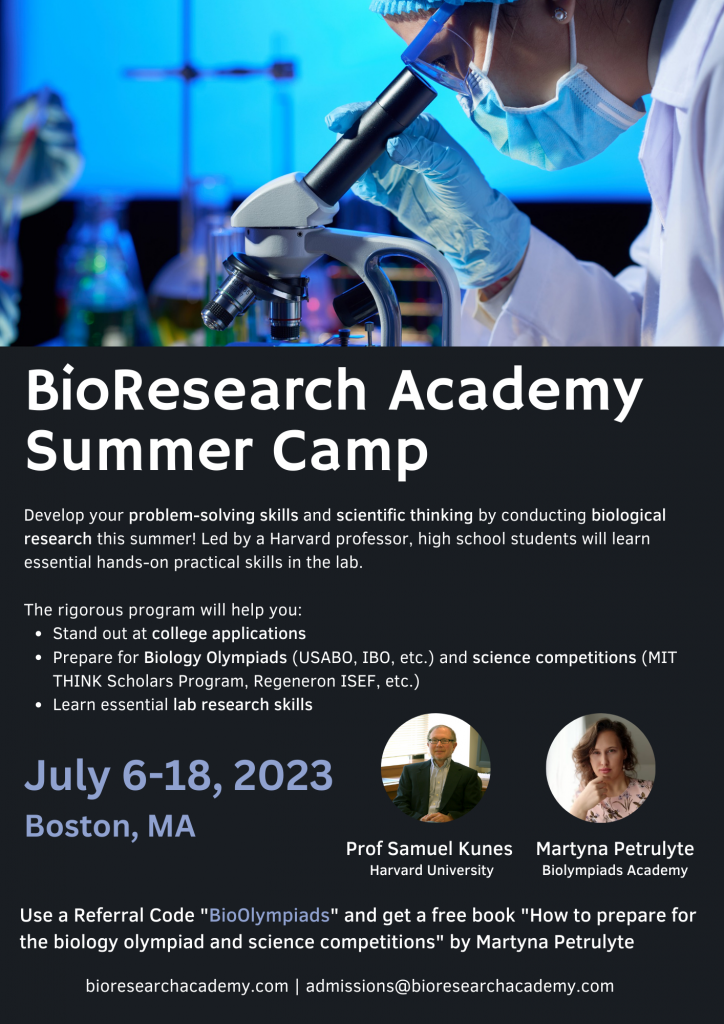 Curriculum
Developed by Harvard Professor Samuel Kunes and Martyna Petrulyte, the curriculum combines preparation for extracurricular competitions with the development of creative research skills through hands-on laboratory experimentation. Combining these two educational modalities works synergistically to prepare students for success in high school competitions and research endeavors, with lasting benefits in college and thereafter. It caters to both students with solid research foundations and with no prior lab experience.
In the classroom, students develop an understanding of a wide range of experimental methods and the ability to interpret complex experimental data. In the laboratory, students conduct research to hone problem-solving skills and original thinking around experimental design challenges, real data, and interpretable results. 
Practical Applications
Students leave the program understanding not only WHAT experimental methods are but, more importantly, WHEN, WHY, and HOW to deploy them in future biology endeavors.
To achieve in biology competitions:
Theory Competitions: Biology Olympiad (USABO, IBO, etc.)
Research Proposal Contests like MIT THINK Scholars Program
Research Fairs like Regeneron ISEF
To accelerate your biology research career:
Stand out in university research internships
Excel in rigorous research camps
Devise original research project
Location
As a fully immersive residential program, BioResearch Academy has carefully selected the facilities and location of Emmanuel College as host. The students will benefit from an enclosed, serene campus centrally located in Boston with proximity to recreation, restaurants, and world-class institutions:
Harvard Medical School, Boston Children's Hospital, Brigham and Women's Hospital
Fenway Park, Back Bay Fens (park greens & gardens)
Harvard University, MIT in Cambridge
Address: Emmanuel College, 400 Fenway, Boston, MA 02115, United States
Registration
Use the Referral Code "BioOlympiads" and get a free book, "How to prepare for the biology olympiad and science competitions" by Martyna Petrulyte.
https://bioresearchacademy.com/